Story Walk Book Currently on Display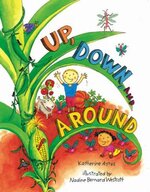 StoryWalk®
Books in Parks? What a novel idea! A walk in the park has taken on new meaning.
What is a Storywalk?
Storywalk is an innovative and interactive way for readers of all ages to enjoy a story and the outdoors at the same time. Laminated pages from a children's picture book are displayed on special display posts along an outdoor path in a park. As you stroll down the trail, you are directed to the next page in the story. StoryWalks engage young readers and is a great way to practice Active Reading skills with special activities highlighted along with the story.
"The Story Walk® Project was created by Anne Ferguson of Montpelier, VT and developed in collaboration with the Kellogg-Hubbard Library. Story Walk® is a registered service mark owned by Ms. Ferguson."